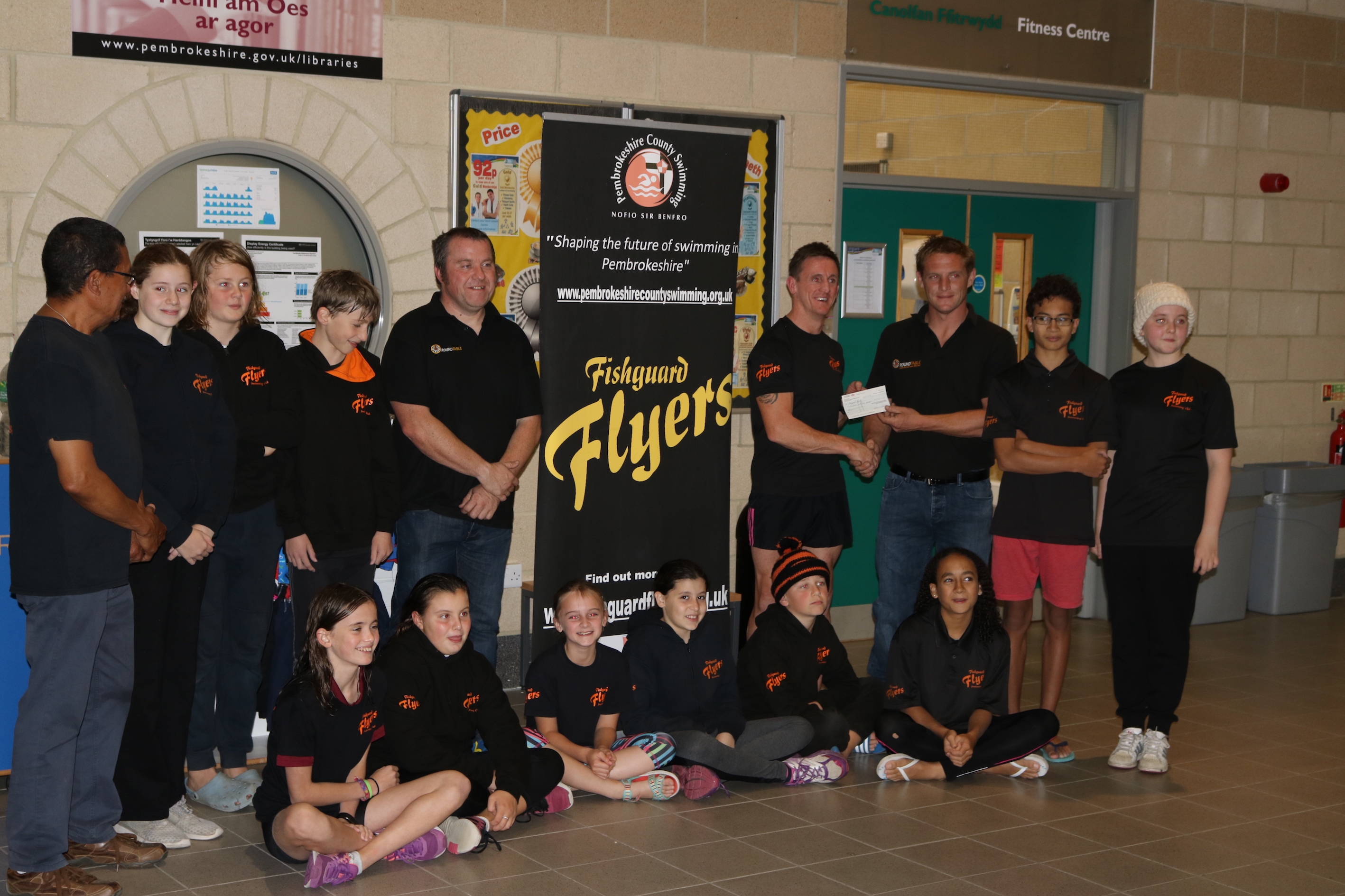 Flyers recently welcomed a few members of the Round Table, who delivered a generous donation towards the cost of our brand new lane ropes.
This is an essential piece of equipment for the club and Flyers has been overwhelmed with the support received to help us pay for them.
Flyers could not have done this without huge support from club members and the local community. As well as the Round Table, we received extremely welcome contributions from Lions and Fishguard & Goodwick Town Council.
Club members have organised fundraising events, including a bag-packing event at the Co-Op in Fishguard on Saturday 20th October and a sponsored abseil down Pembroke Castle a day later, on Sunday 21st October.
Friederike said: "Thanks to all the organisations that stepped forward to help us to pay for this essential piece of equipment. Thanks also to our fantastic volunteers and members who are playing their part by raising funds for the club."
Hi all,
Attached is a list of the club's target meets for next term. These are the meets that coaches feel are important for Flyers to attend in order to help swimmers to develop and improve their skills.
We have decided to only advertise club target meets on the site in future, as we aim to take bigger teams to fewer meets.
However, if there are meets that some swimmers/parents want to attend, please contact Fred or Karl (fixturesec.flyers@gmail.com) to discuss.
Dear all, Some more info about Sunday July 8th. Please could all swimmers arrive at 12.15 at Fishguard Leisure Centre reception. Warm up will start 12.30 and the gala will start at 1pm.
Please note that this gala is not a licensed swim meet which means that the times the children achieve will not go into Swim rankings. We do have however a referee and officials who will judge the strokes and disqualify if needed. This is an important part of the learning for the children. If disqualified, the children will still receive certificates for their races with their time and a note of the disqualification.
All swimmers are asked to stay to the end of the gala when (if time allows) some fun relays for everyone will take place and all swimmers and parents are invited to join us for the Club Champs presentations and our Annual Awards presentations in the Studio from 4pm-5pm.
We normally prepare a cold buffet for this – A list of food and drink required for the post-gala buffet will be on the notice board in reception shortly, please put your names behind foods and drinks you can provide. It would be helpful to label the home made food as we have some children with food Allergies.
We would appreciate if some parents willing to help setting up the studio could come forward – we have access to the studio from 3.30pm.
We do not charge entry fees for the races or for the gallery for the Club Champs but we will hold a raffle to make some of the money back which we spend on pool hire and awards, medals and certificates. There will be one large prize for the raffle and rather than bring small raffle prize items, we would be grateful if you could generously buy raffle tickets to support the event and help securing the running of the Club Champs for next year.
Some more practical tips for the day. Children should change as usual in the changing areas but bring to poolside a bag with goggles, hat, water bottle, small snack, two towels, a t-shirt, shorts, shoes (flip flops or crocs) and hoodie to wear between races.
Well done to everyone selected to Pembrokeshire County Swimming. A fantastic number of Flyers in this selection period. Go Flyers!
Flyers has received 20 streamline boards and 20 pairs of small sized fins to help our younger swimmers develop best body positions and strength. Thanks to Richard Curtis, our former club secretary, for securing funding for these. Also, three of our coaches recently completed their Level 1 coaching qualifications. Well done to Julie, Ryan and Rob – we are hoping to also receive funding for these courses. In addition, the club needs help with fundraising and grant applications to ensure further development of the club. We would welcome volunteers to come forward to take care of this side of the club. We also are looking for someone who can spare some time to organise social outings and long course training – ideally this could tie in with grants and funding. So, if it sounds too much for one person, there may be 2 parents out there who would like to share these roles?
Friederike
Some of Fishguard's county squad swimmers this weekend said farewell to Sam Jones, assistant development coach at Pembrokeshire County Swimming, as he leaves for pastures new.
All at Flyers wish Sam all the best in his new role as assistant head coach at Swansea Aquatics. Thanks for everything.
Go Flyers!
The club has invited the Haverfordwest Water Polo Club to run 2 taster sessions at Fishguard pool on
Friday April 6th and Friday April 13th
in normal training hours,
7-9pm.
The session will consist of water polo skills practises (with and without balls) and a game. All members are invited, but we would like everyone who is planning to attend to reserve a place with Friederike so we can pass on numbers and ages to the coaches as they will provide equipment as well as their time. Water polo is good fun and very good speed training for our swimming, and of course the ball handling skills are transferable to all sorts of ball and team games, so please come and try. To reserve your place for the 6th or the 13th, or for both (please state in your email) please email Friederike. Looking forward to seeing you there.
Please note that Flyers training is on during the Easter holidays, apart from Good
Friday March 30th
and Easter
Monday April 2nd
.
Friday April 6th and Friday April 13th
sessions for all squads will be run by 2 coaches from the Haverfordwest Waterpolo club and no swim squad training will take place – PLEASE LOOK OUT FOR A SEPARATE MESSAGE ABOUT THE WATERPOLO. The club is always keen to see our members making the most of their squad training hours. We would like to see improved overall attendance in the new term and remind all swimmers and parents that it is vital to be on time for training as the warm up cannot be missed and lateness of one swimmer often leads to disruption in the lane.
Fishguard Flyers would like to support Swimathon and its 2018 causes, Cancer Research UK and Marie Curie. Our Swimathon session will be held on Friday April 27th at 7-9pm during normal training hours. Please could all interested swimmers enter here: https://swimathon.org/participants/register/select_session/1927
This link only will give you the opportunity to enter for the Friday session.
All Dev 1 swimmers are recommended to enter the 1.5k, the Dev2 swimmers the 2.5k, and the Dev3 swimmers the the 2.5k or 5k – your choice! If you are a Waterdragon and you have been with us for a while, please feel brave and enter the 1.5k or find 1 or 2 friends and enter as a team. If you have just joined us during the last few months you might want to wait until next time. Please ask Fred or Martha if not sure.
PLEASE NOTE – THERE IS NO REGULAR TRAINING ON April 27thTH, ONLY SWIMMERS WHO ENTER THE SWIMATHON WILL BE ALLOWED POOLSIDE