Please note that there will be a change in Monday's training sessions as from the 29th April 2019. Development squad will now be from 5.45pm to 7.45pm Academy Nemo squad will now be from 5.45pm to 6.45pm Academy Dolphin and Porpoise Squad will now be from 6.45pm to 7.45pm.
Hi all members, swimmers, parents, siblings and friends. Here is something to do during the holidays!!
Fishguard Flyers is 20 years old this year. To celebrate we would like to launch a mascot which will accompany children at galas and make home visits. We are running a 'Design a Mascot' competition – get creating, the best idea for an Mascot will be turned into the real thing.
Please download and print the template. Get drawing and bring it back to Leisure Centre. Once we have received a good amount of entries, we will get judging. Thanks to the swimmers who have already submitted their designs.
Good luck 🙂
PLEASE RETURN YOUR MEMBERSHIP FORMS THIS WEEK WITH MONEY (OR PAY BY BACS) – MEMBERSHIP WILL ONLY BE PROCESSED IF PAYMENT HAS BEEN RECEIVED. From next week (April 8th) we will not allow children to swim if their membership form has not been received.
Thanks
Dear all, As from Monday 25th March, Fishguard Leisure Centre have asked that all Fishguard Flyers swimmers swipe in at reception before their sessions. The Leisure Centre will provide a box that the members cards can be left in before the session, so that the staff can swipe in whilst the children are swimming to save a queue building up. Please do not forget to collect your cards at the end of your session. Many Thanks
Many thanks to all members who attended our parent evening last night. It was great meeting you all.
For all of you who could not make it, I have now uploaded the documents for our new Squad structure onto the website. Waterdragons, Development 2/3 and Youth squad are unaffected by changes other than name change. The Development 1 squad is now called Academy and will be split into 3 groups. Please email if you have questions and/or you would like to discuss the proposed squad for your child.
The website squad page itself will be updated on March 4th when the new squads start.
We finally have located/ received the complete results from both Pembrokeshire primary and secondary schools Urdd galas. Primary results are in the excel sheet attached and the secondary results are here: https://www.urdd4.org/canlyn…/canlyniadaugweithgareddau.a5w…
Well done once again to all who took part and represented their schools – you all did amazing! Not long until the finals now with Victoria, Dexter, Sammy and Oli competing in Cardiff on January 26th.
Christmas fun session Friday Dec 21st from 7-8pm. Master sessions and Youth training 8-9pm as usual.
The club will close for Christmas on Dec 21st and only re open on Jan Mon 7th.
Merry Christmas to all our members.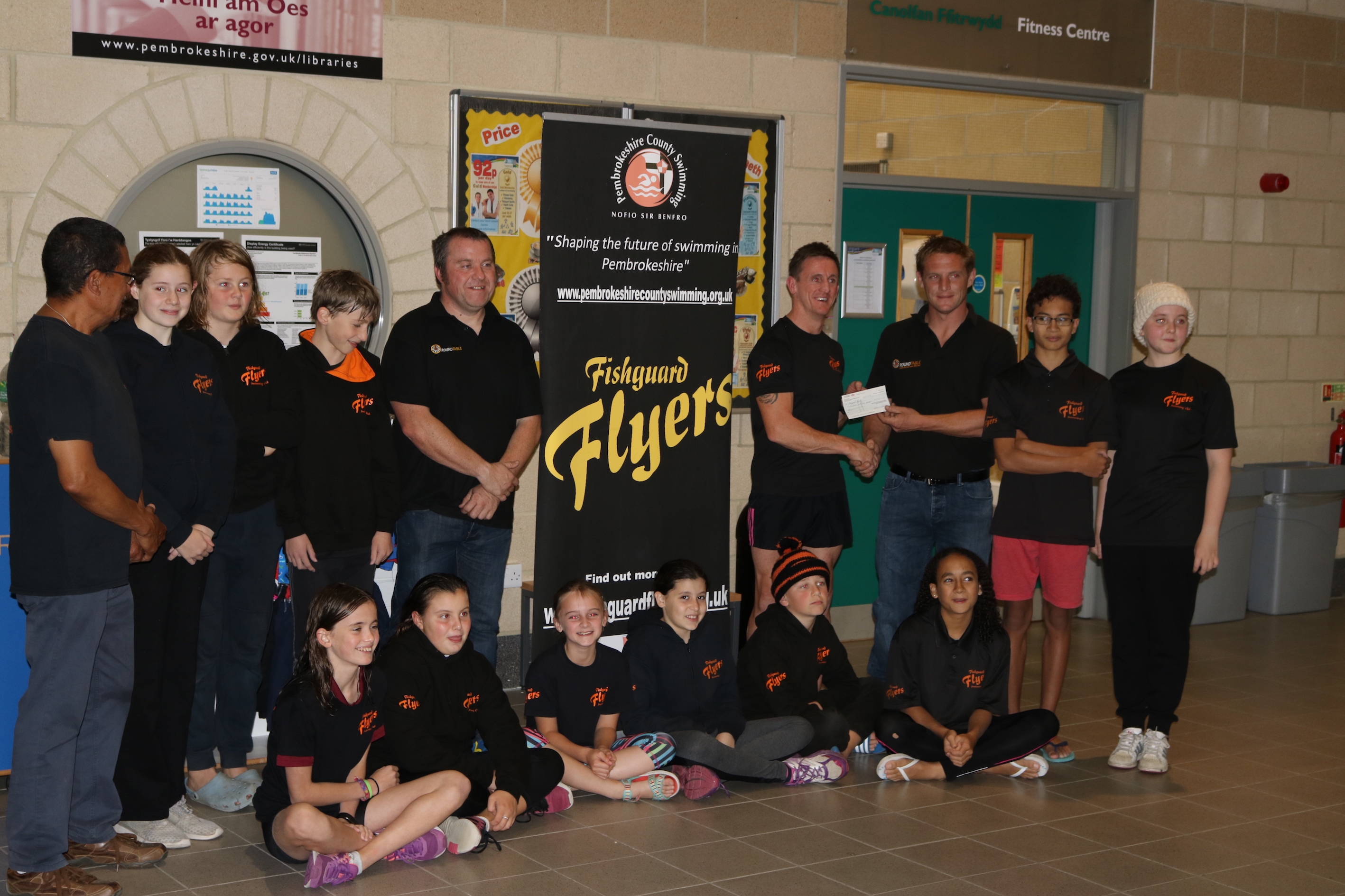 Flyers recently welcomed a few members of the Round Table, who delivered a generous donation towards the cost of our brand new lane ropes.
This is an essential piece of equipment for the club and Flyers has been overwhelmed with the support received to help us pay for them.
Flyers could not have done this without huge support from club members and the local community. As well as the Round Table, we received extremely welcome contributions from Lions and Fishguard & Goodwick Town Council.
Club members have organised fundraising events, including a bag-packing event at the Co-Op in Fishguard on Saturday 20th October and a sponsored abseil down Pembroke Castle a day later, on Sunday 21st October.
Friederike said: "Thanks to all the organisations that stepped forward to help us to pay for this essential piece of equipment. Thanks also to our fantastic volunteers and members who are playing their part by raising funds for the club."