Club will break for Christmas on Friday 22nd December. We will run a fun gala on that evening 7-9pm for all squads.
Normal training will resume for all squads on Monday 8th January. However, Fred has booked the pool on Thursday 4th January 5-7pm for Dev 3 (5-7); Water Dragons and Dev 1 (5-6); and Dev 2 and Youth (6-7).
Cheers
Three Flyers set their sights on this year's Winter Nationals at the National Pool in Swansea, competing as part of a combined Pembs county team.
Rhys Davies, Rachael Lewis and Zac West met the tough qualifying standards to join up with some of the best swimmers in the county to fly the flag for Pembrokeshire over the course of last weekend (1st-3rd December).
Rhys produced a cracking swim in the 15-16 year 200 backstroke to grab gold in a time of 2:15.60. He got close to securing another medal in the 100 back, shaving 0.49 seconds off his previous best time, to finish fourth.
Rachael qualified for the 50 and 100 breaststroke, and she produced a fine swim to cut 2.5 seconds off her 100 time to hit the wall in 1:24.75.
Zac also qualified for two events in his favourite backstroke, slashing almost 7 seconds off his previous best long course 200 backstroke time to touch in 3:04.17.
For all three, but particularly our two younger swimmers, the step up in competition at a national level event was a valuable experience and will stand them in good stead for the future.
The future's orange. Go Flyers!
Hi all,
Please note that training is cancelled for all squads on Tuesday 14th November due to the club competing against Preseli Panthers in the inter-club gala. Those that have already been contacted about taking part in this gala, please aim to arrive at Crymych leisure centre at 4.45pm ready for warm up at 5pm. If anyone hasn't been contacted but would still like their child to take part, please email me on this address and I will pass it on to coaches. Coaches will inform the children which races they are in on the night. Ages 10 and under will compete in 25m (one length) races; those aged 11 and over will compete in 50m races. (Age at August 31, 2018 – school year). Cheers
Hi folks, Please note, training is cancelled for all squads next Monday and Tuesday (30th and 31st) due to an acute shortage of coaches. The club is currently carried along on the goodwill of a small number of committed souls, who do a fantastic job for Flyers. However, this is unsustainable in the long-term. So, we need more parents to volunteer to help – we particularly need more coaching volunteers to help poolside. If you can spare even one hour a week to help, please speak to Fred or one of the other coaches. Thanks
Fighguard Flyers welcomes a few new members to our committee. Glenda Thomas, who was previously Flyers' county representative, has taken on the role of chairperson. Anita Thomas has taken on the role of club secretary, and Jo Montgomery is now child welfare officer for Flyers.
Flyers committee extends a huge thank you to them for taking on these important roles.
Finally, the club wishes to also thank Nick Chilton, former chairman, Richard Curtis, former secretary, and Ruth Myers, former child welfare officer, for all their selfless work and wise counsel over many years.
For more details about Flyers' committee, go to the Club Committee section of the website.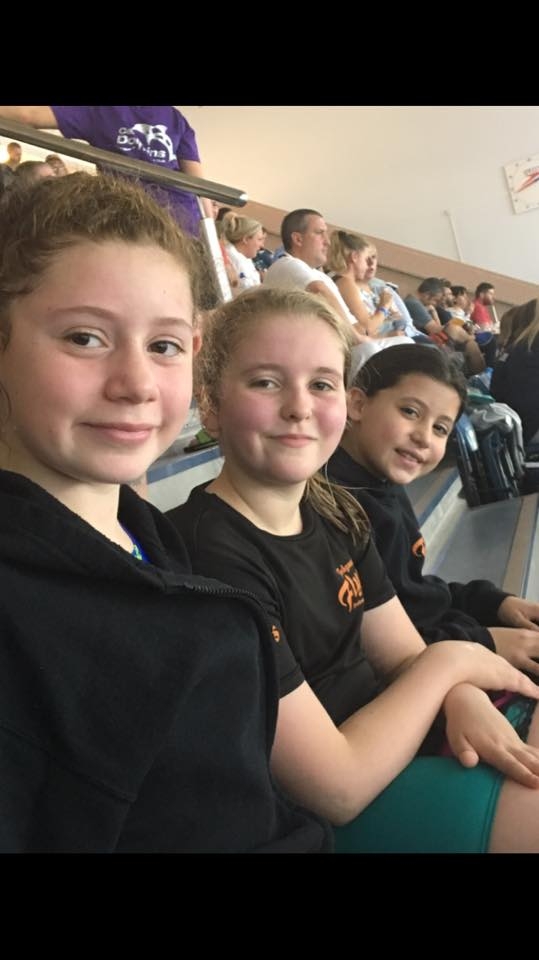 Three Flyers got off the blocks at last weekend's Neath Open, aiming to set new long course targets for the season.
Alexa continued her recent form by slashing 22 seconds off her 200 IM time, putting a new mark of 3:25.53 on the board. She backed it up with a near-11 second improvement in the 50 fly to touch in 49.43 seconds.
Kayleigh R also powered home in a new personal best LC time for the 200 IM, cutting almost 11 seconds off, to hit the wall in 3:20.96. The young Flyer also sliced 8.5 seconds off her previous best 100 fly time, to finish in 1:38.95.
Finally, Victoria set a new 200 IM personal best of 3:47.48, finishing fourth in her age category after cutting 6 seconds off her previous time. She also raced to fourth place in the 50 fly in 48.34, smashing almost 8 seconds off her previous mark.
Thanks to Hayley from Haverfordwest Seals for taking our three swimmers under their wing for the weekend.
Well done girls. Go Flyers!
Hi folks,
Fishguard Flyers is delighted to announce that Lynne Fischer has been appointed as the club's representative at Pembrokeshire County Swimming (PCS). As part of this role, Lynne has joined the committee of both PCS and Fishguard Flyers.
Lynne was nominated to be Flyers' county representative at the recent PCS AGM. All communication about county swimming, including any questions about squad selections, should in future be directed to Lynne.
PCS is in the process of updating squads following last weekend's county champs. A list of selections will be published by PCS on Tuesday October 24th.
Finally, all members of the Flyers' committee would like to extend our warmest thanks to Glenda Thomas, who served the club so well as county rep.
Cheers and good luck all.
This was meant to be our fallow year – shorn of our standard bearer, Carys Thomas, and with so many other Flyers' hopefuls competing a 'year up'.
Fortunately, our plucky youngsters didn't get that memo, as they reaped a bumper harvest of medals at the Pembrokeshire County Championships.
Five golds, eight silver and eleven bronze medals – plus countless personal bests and a fresh clutch of club records – were just rewards for a weekend of racing against our nearest and dearest club rivals.
Rachael led the charge for Fishguard, bringing home two gold and two silver medals, including top spot in the 200m breaststroke (aged 11-12) in a time of 3:07.27, plus a flying 50m breaststroke victory time of 39.20 seconds. She secured second in the 400 freestyle and 400 IM.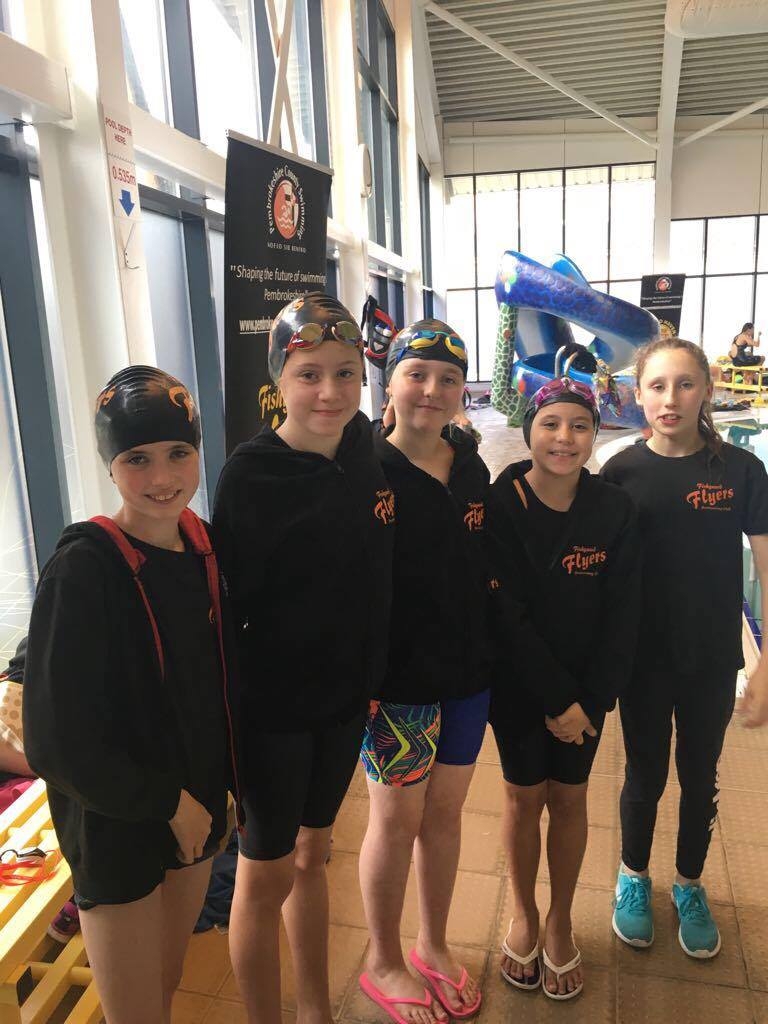 Dexter typified the attitude of the new generation of swimmers coming through the club. The 8-year-old took his first county champs in his stride, claiming a gold and four silver medals. He stormed to gold in the 50m backstroke in a speedy 47.24 seconds, and took silver in the 100 IM in 1:47.87.
Kayleigh Fischer bagged gold and two bronze medals, including top spot in the 100 breaststroke (11 to 12 years) in 1:34.97. She also secured third place in the 200 freestyle, hitting the wall in 2:41.82.
Rhys Davies completed Flyers' gold medal haul in the 200m butterfly, touching in 2:30.03.
Victoria was one of the many Fishguard swimmers who had to race against rivals a year older, but it didn't phase the youngster as she still managed to grab silver in the 50 freestyle (9 to 10 years) in a blistering 38.20 seconds. The young Flyer also secured bronze in the 50m backstroke in 43.15.
Like Dexter, Chloe shrugged off any nerves from competing at her first county champs to win silver in the 50m breaststroke. The 7-year-old took second spot in a time of 1:05.34. She also performed well in the 50m backstroke, finishing 7th in 57.77.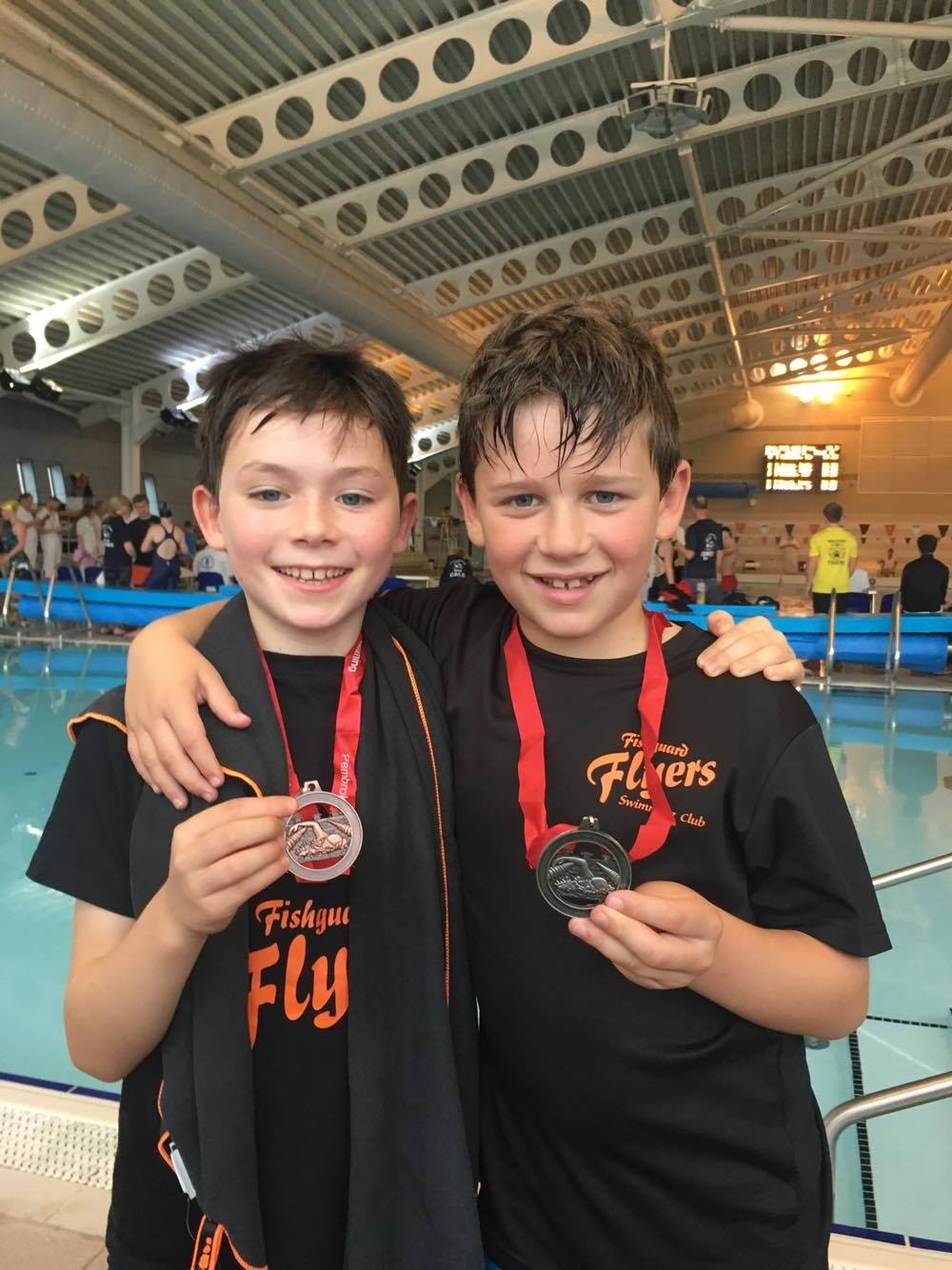 Zac bagged a trio of bronzes (50, 100 and 200m) in his favourite event – backstroke (Zacstroke!). He seized third spot in the 11 to 12 year 200 distance in a storming time of 2:53.89, and notched up a rapid 50m mark of 38.32 seconds.
Hans was also rewarded for his hard work in training with three bronze medals, including a first 400 IM time and two powerful displays of breaststroke. He touched in 3:19.87 in the 200m breaststroke, and set a quick fire 1:31.01 for the 100m distance.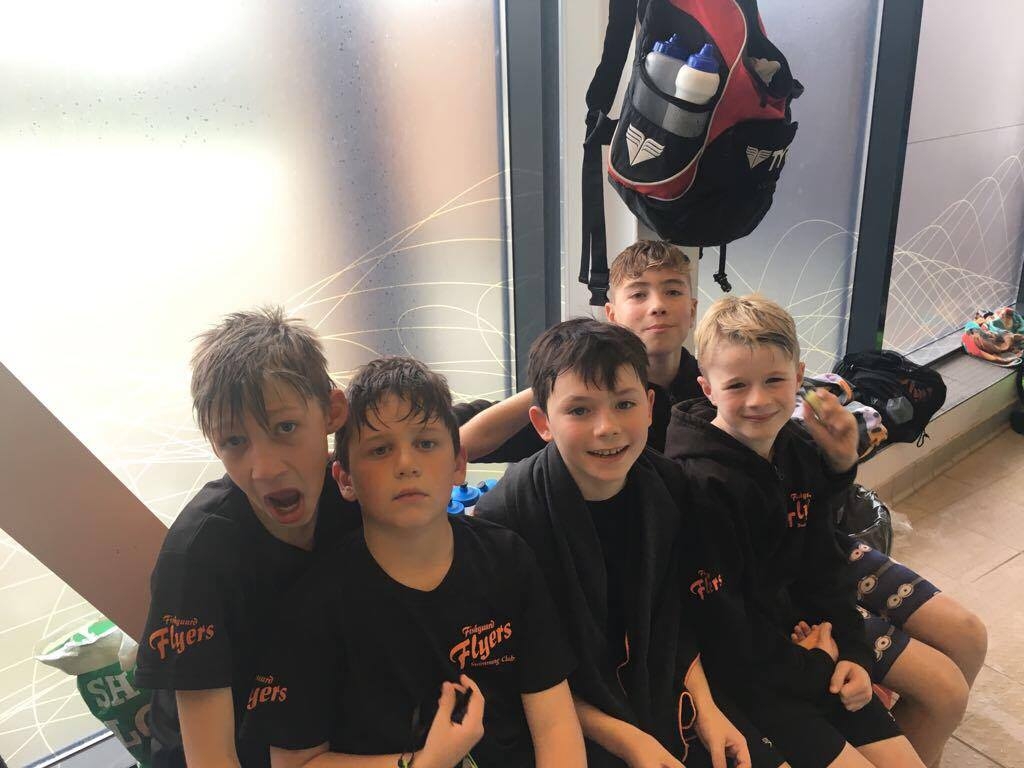 Rhys Caygill rounded off Flyers' medal haul with two bronze medals in the 50 freestyle, touching in 39.54 seconds, and 50 fly, laying down a 47.78 second marker.
Outside the medals, there was plenty to cheer. Rhiannon had a good freestyle weekend, shaving almost 5 seconds off her previous best in the 200 distance to touch in 2:50.55 and notching a new PB in the 100 free of 1:19.33.
Kayleigh Reed continued her improvement in the backstroke events, cutting more than 6 seconds off the 200m distance to set a new PB of 3:06.62. She also sliced 5 seconds off her 100m backstroke to hit the wall in 1:25.06.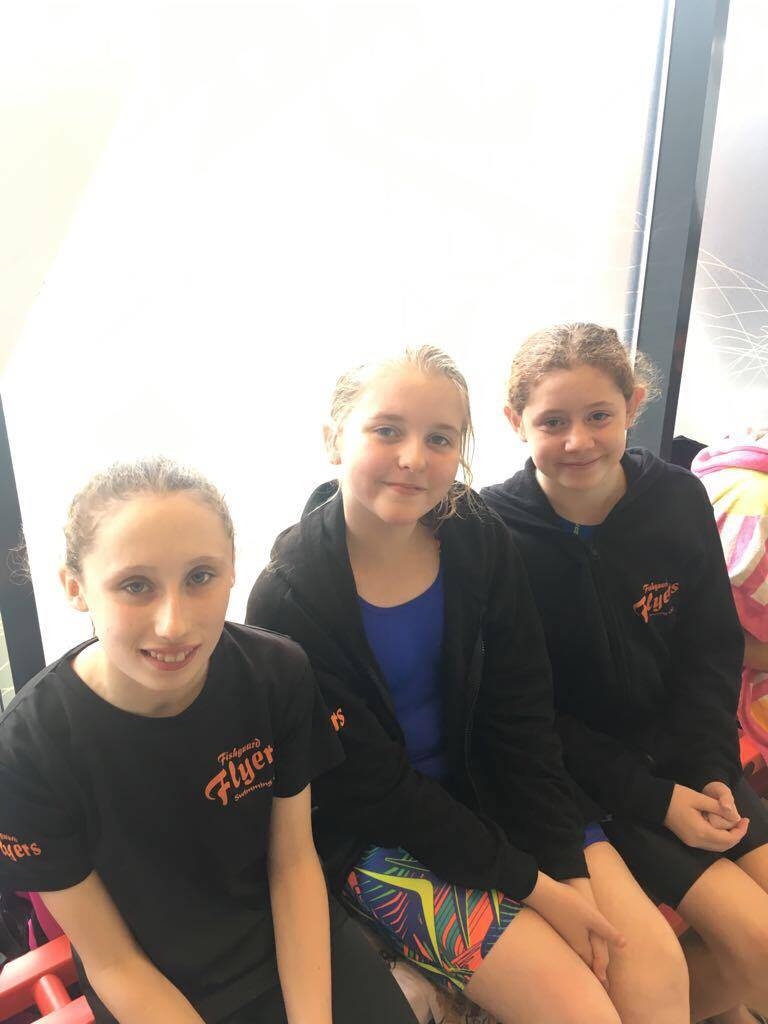 Ella slashed 10 seconds off her previous best 200 IM time, to set a fresh mark of 3:23.75. The young Flyer also carved 1.55 seconds from her 50m butterfly with a rapid 43.52 seconds.
Alexa again demonstrated how breaststroke is done – with grace and power – chopping a whopping 37 seconds off her previous 200m time to finish in 3:40.41. She also cut more than 4 seconds off her 100m time to touch in 1:42.11.
Kaleb had a strong freestyle weekend, setting his first time for the 200m freestyle of 2:57.98, and slashing 27 seconds off his 100m time to hit the wall in 1:18.88.
Zachariah clocked up two fifth places – in 50m freestyle in a time of 41.73 seconds, plus 50m backstroke in a rapid 44.04 seconds.
Ffion chopped more than 7 seconds off her 50 backstroke time, to lay down a fresh marker of 45.75 seconds. She also took 3 seconds off her 50m breaststroke, finishing in 1:00.74.
Patrick cut almost 7 seconds off his 100 breaststroke time, to finish in 1:30.33 (15 and over). He also shaved a bit off his 100 backstroke, hitting the wall in 1:24.23.
Sammy battled through a sore throat, which threatened to derail his weekend, to put in a strong 100m IM performance of 1:43.10, a 4.3 second improvement. He also cut almost 5 seconds off his 100m backstroke, to touch in 1:39.19.
Eva put two new times on the board in the 100m backstroke, finishing in 2:03.34, and 100m freestyle, touching in 2:03.47.
James picked up new times for the 50 breaststroke, of 1:03.63, and 50 backstroke, finishing in 53.58.
Nina sliced more than 6 seconds off her 100m breaststroke time, hitting the wall in 2:02.27.
Sean raced to a time of 1:00.86 in the 50m backstroke, while Hafwen set a mark of 46.37 seconds for the 50m freestyle.
Well done to all Flyers who raced for the black and orange. Thanks to all coaches and parents who helped out poolside over the course of a long weekend.
Finally, these performances would not be possible without the time, effort and guidance given by Flyers' coaching staff. Thank you all.
Bring on the sub regionals. Go Flyers!
fishguard results – pembs county champs
pembrokeshire champs 2017 – session 1 results
pembrokeshire champs 2017 – session 2 results
pembrokeshire champs 2017 – session 3 results
pembrokeshire champs 2017 – session 4 results
pembrokeshire champs 2017 – session 5 results
pembrokeshire champs 2017 – session 6 results