Dear all, As from Monday 25th March, Fishguard Leisure Centre have asked that all Fishguard Flyers swimmers swipe in at reception before their sessions. The Leisure Centre will provide a box that the members cards can be left in before the session, so that the staff can swipe in whilst the children are swimming to save a queue building up. Please do not forget to collect your cards at the end of your session. Many Thanks
Many thanks to all members who attended our parent evening last night. It was great meeting you all.
For all of you who could not make it, I have now uploaded the documents for our new Squad structure onto the website. Waterdragons, Development 2/3 and Youth squad are unaffected by changes other than name change. The Development 1 squad is now called Academy and will be split into 3 groups. Please email if you have questions and/or you would like to discuss the proposed squad for your child.
The website squad page itself will be updated on March 4th when the new squads start.
Congratulations to all Flyers who raced at Regionals over the last two weekends. There were countless pbs, plenty of finalists and tons of grit and determination on show.
Flyers grabbed a haul of 6 gold, 11 silver and 12 bronze medals – despite several members of the team being struck down with the lurgy at various points over the course of the two weeks. We also have 8 swimmers hitting qualification times for the Welsh Nationals in Swansea at Easter.
These are huge achievements and you should be as proud of them as the club, coaches and parents are.
Thank you to all coaches who helped with poolside duties. Without your commitment it wouldn't happen.
Go Flyers!
We finally have located/ received the complete results from both Pembrokeshire primary and secondary schools Urdd galas. Primary results are in the excel sheet attached and the secondary results are here: https://www.urdd4.org/canlyn…/canlyniadaugweithgareddau.a5w…
Well done once again to all who took part and represented their schools – you all did amazing! Not long until the finals now with Victoria, Dexter, Sammy and Oli competing in Cardiff on January 26th.
Christmas fun session Friday Dec 21st from 7-8pm. Master sessions and Youth training 8-9pm as usual.
The club will close for Christmas on Dec 21st and only re open on Jan Mon 7th.
Merry Christmas to all our members.
Hi all,
The Urdd galas are almost upon us. All our swimmers are encouraged to take part.
Entry is via your child's school – entrants must be Urdd members.
The winners of the county meets will progress through to the Urdd National Finals in Cardiff in January.
The Pembrokeshire Secondary Schools gala is on Tuesday 13th November at Tenby LC, from 7-9 pm.
The Pembrokeshire Primary Schools gala is on Wednesday 28th November at Haverfordwest LC, from 9.15am to 3.30pm.
Good luck all. Go Flyers!
Date
Session
Warm-up Time
Start Time
E.T.F.
Fri 23rd Nov
1
5.30pm
6.00pm
8.30pm
Sat. 24th Nov
2
8:00am
9.00am
10.40am
3
11:00am
12.00pm
2.00pm
4
2.15pm
3.15pm
5.15pm
Sun. 25th Nov
5
8:00am
9.00am
10.55am
6
11:15pm
12.15pm
2.30pm
7
2.45pm
3.45pm
5.05pm
Hi All I'm sure most of you will know by now, there is a problem with the pool at Haverfordwest for the Pembrokeshire Champs this weekend. Due to the difficulties at the pool, organisers are having to run the Pembrokeshire County Champs with just 4 lanes. The good news is that organisers are still able to accommodate all the events and swimmers. The bad news is that fewer lanes means more heats, which will obviously result in longer sessions. Details of the revised session times are in the link below, and if you need any further clarification then please don't hesitate to ask. See you at the weekend.
Updated Session Times – 4 Lane Meet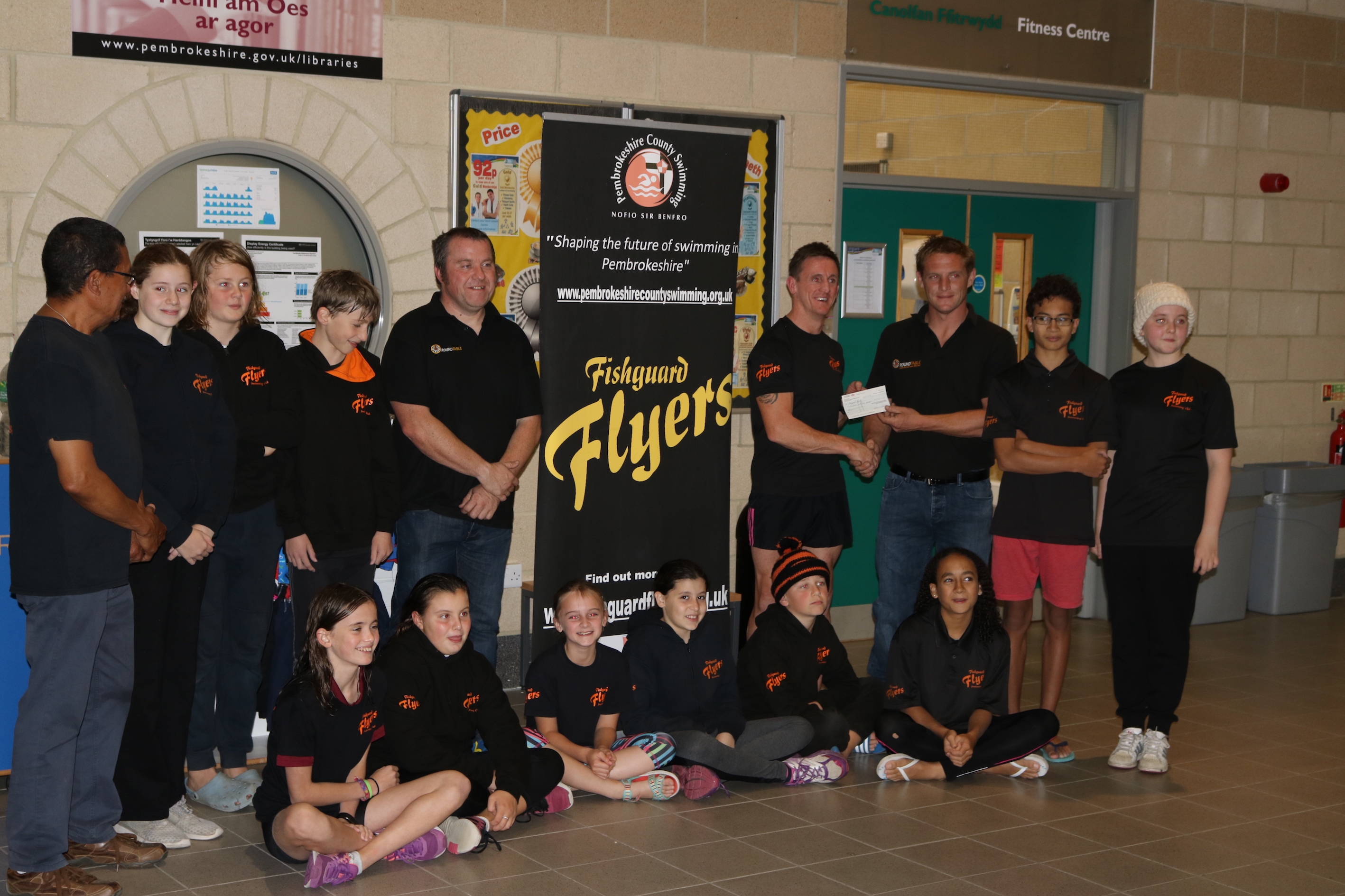 Flyers recently welcomed a few members of the Round Table, who delivered a generous donation towards the cost of our brand new lane ropes.
This is an essential piece of equipment for the club and Flyers has been overwhelmed with the support received to help us pay for them.
Flyers could not have done this without huge support from club members and the local community. As well as the Round Table, we received extremely welcome contributions from Lions and Fishguard & Goodwick Town Council.
Club members have organised fundraising events, including a bag-packing event at the Co-Op in Fishguard on Saturday 20th October and a sponsored abseil down Pembroke Castle a day later, on Sunday 21st October.
Friederike said: "Thanks to all the organisations that stepped forward to help us to pay for this essential piece of equipment. Thanks also to our fantastic volunteers and members who are playing their part by raising funds for the club."