Dear all swimming families, as you would have heard in the news by now and perhaps also seen the email that Clare sent, you are probably aware of Leisure Centres having to close again after 24 Dec. That means we can finish this term's training on 22 Dec as planned but it also means we will have to halt training after that until further notice once again. We will update you with news and updates on this as soon as we hear from Pembrokeshire Leisure and Swim Wales. The swimmers have bounced back in 2020 and I am sure they will bounce back again, we will stay positive and focus on getting back.
Swim Wales Statement regarding Welsh Government National Restrictions Update from 24th December
Hi all,
If any of our members become ill with Covid symptoms and are unable to train, please could you contact our Covid Officer, Clare Ryland, on this email address fishguardflyerscovid@gmail.com.
It is important that we keep accurate records of any such instances, as they may become useful for tracking and tracing localised outbreaks of Covid 19.
Please don't email Anita, our club secretary, or other committee members or coaches about this issue.
Cheers.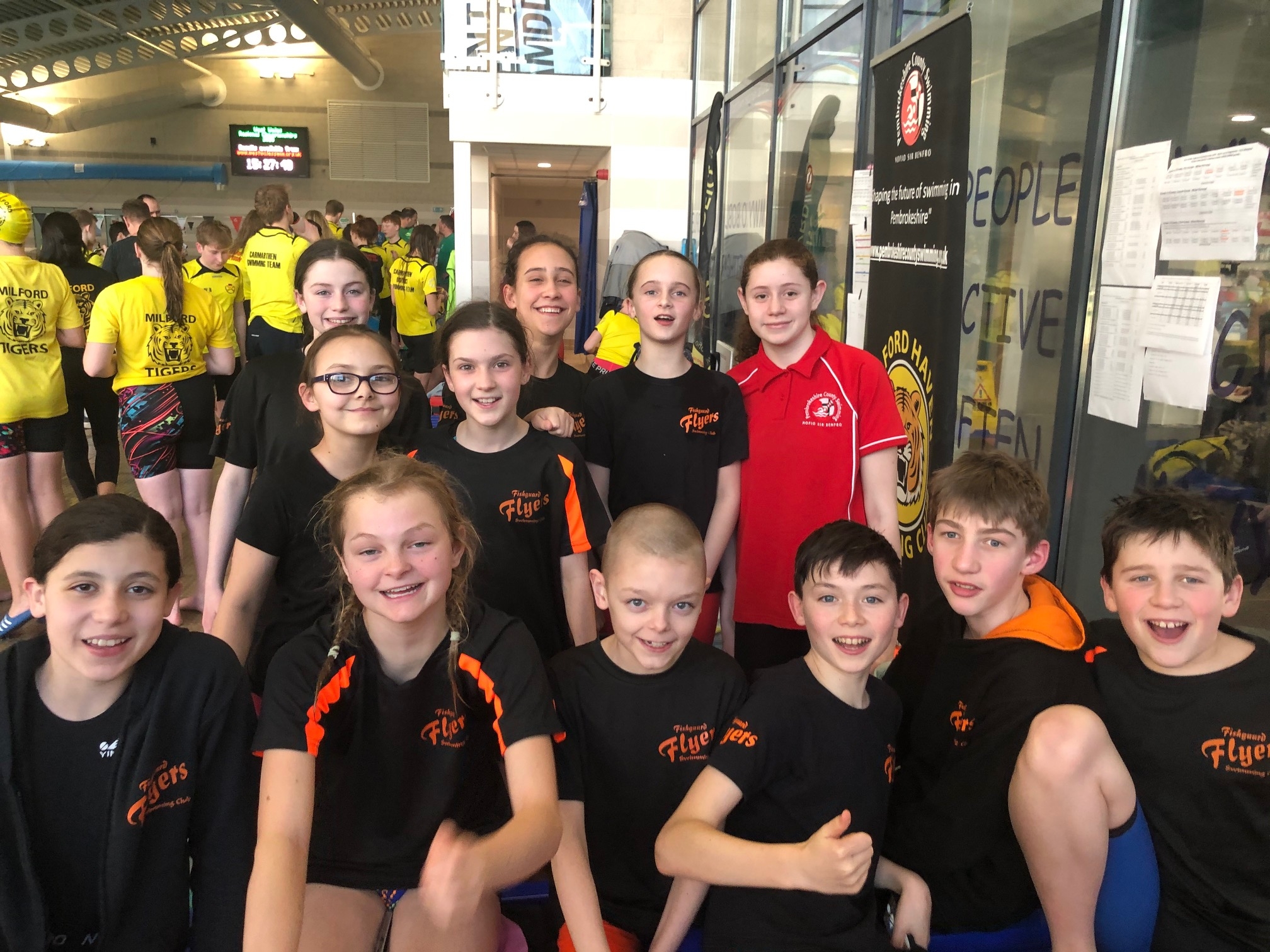 Fuelled by adrenaline (and plenty of coffee for parents!), the black and orange army lined up ready to go for the second weekend of racing at the West Wales Regional Champs.
The focus and determination of all who turned up and lay it on the line for Flyers was impressive. The positive attitude and camaraderie of our gang was all the more impressive as it was a daunting step up for many of our less experienced guys.
These challenges will, I'm sure, make them all better, stronger and even more focused at training on the details. We all know that the small things are often the big things.
Again, our gang stepped up and did themselves and your club proud. Lots of pbs, club records slayed, medals grabbed and Welsh national times secured. But, perhaps more important, plenty of smiles and some pride in their performances and achievements were on display.
Those of you who have followed Flyers' progress at Regionals over a number of years will also know that we traditionally struggle to put together one or two relay teams. We often don't have the numbers entered, and/or have four good swimmers in one age category. This year, we were able to enter 7 relays, which is testament to the hard work of the club's coaches, the dedication of this group of swimmers and the support of parents.
Thank you all. Thanks also to our coaching volunteers who gave up their weekends to help on poolside.
There were too many highlights to single out any individuals. Suffice to say the coaches are proud of everyone for playing their part.
Across the second weekend we took 3 gold; 4 silver; and 5 bronze medals. This takes our tally for both weekends to 7 gold; 12 silver; and 7 bronze medals.
We now turn our attention towards our younger Water Dragons and Academy groups, with important meets, aimed at their development, coming up. Go Flyers!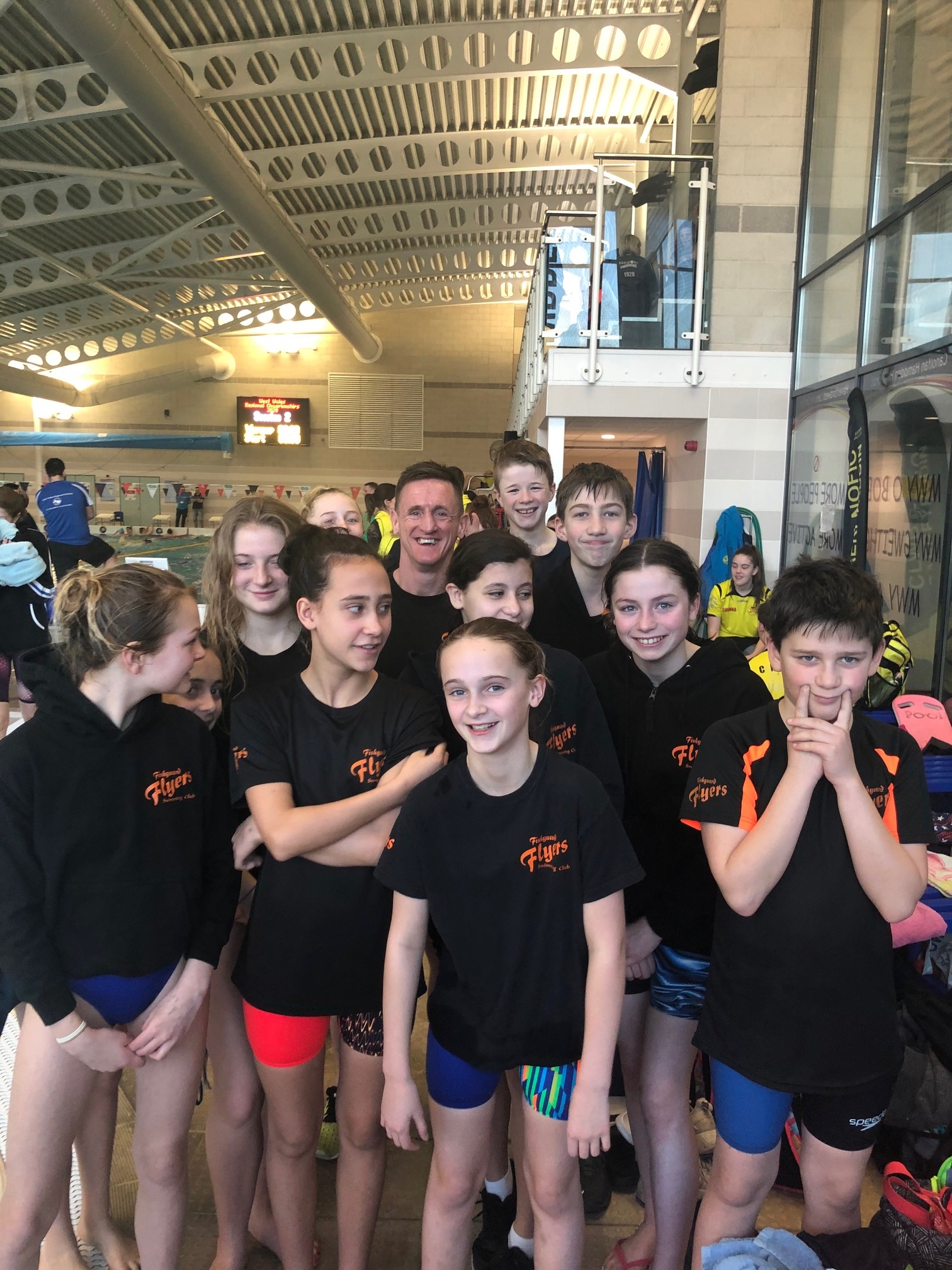 The first weekend (yes, there are two …) of the West Wales Regional Swimming Championships kicked off with lots of fast swimming by the black and orange army.
The 'legion of zoom' raced to a series of PBs, finals, a stack of medals and some qualifying times for the forthcoming Welsh (Easter) Nationals.
It was great to see the hard work done in training being put into practice, with some tough swimming and intelligent racing. It was even better to see our young gang go about their business (mostly) with smiles on their faces, while also cheering and supporting their team mates.
Well done to all who competed. We go again this weekend. Go Flyers!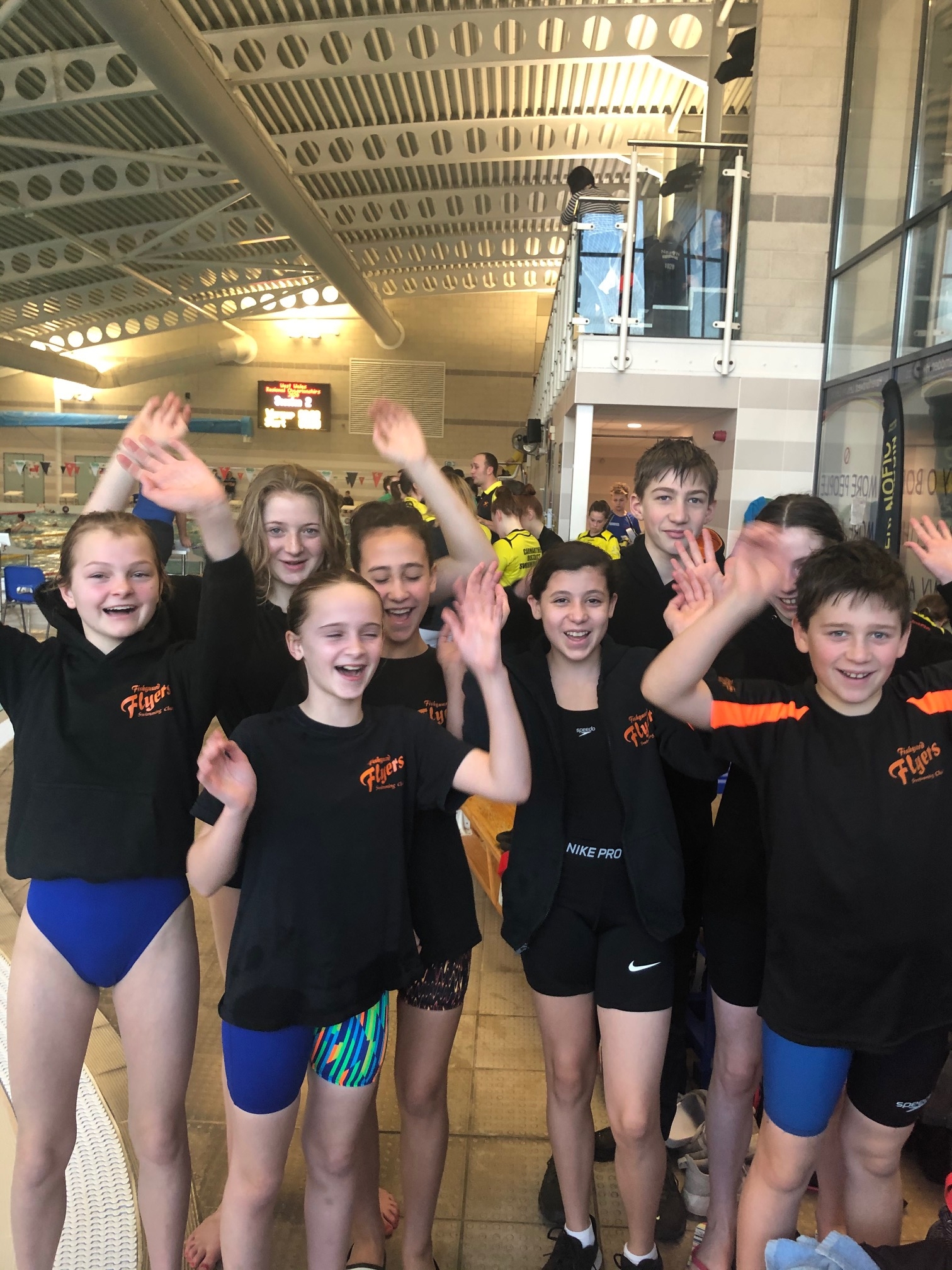 A team of 16 Flyers made the short(ish) journey to Carmarthen for the Christmas Cracker. Everyone who competed really stepped up for the Black & Orange and put in some Christmas Cracking performances.
Plenty of PBs (personal best times), some gutsy racing and a few club records tumbled along the way. The progress being made by our swimmers was a delight to behold and they will, no doubt, lead us to the Promised Land.
In the absence of Wise Men, it fell to Ryan, Karl, Lorraine and Caz to take on poolside duties. Festive spirits were high, despite a biblical plague that took down a few of our hardy band.
Well done to everyone who competed. But special mention goes to Chloe B who showed great leadership by taking one of our younger swimmers under her wing and giving her some morale boosting support. Good on you Chloe!
Next years Swimathon session for Fishguard Flyers will take place on Friday 27th March 7pm-10pm. Fishguard Flyers are proud to have supported Swimathon since many many years and the children have always thoroughly enjoyed the challenge and the accomplishment! Swimming long distances without break is different to what we normally practise in training and more often than not the children actually love it.
We would like all our members to participate – there is a choice of 400m, 1500m, 2500m and 5000m individual distances or 1500m and 5000m as (2 to 5 people) Team Challenge.
We would recommend the 400m individual distance or 1500m team challenge (team of 3, 500m each or team of 2, 750m each) to our swimmers in the Waterdragon squad.
We would recommend the 1500m individual distance to most of our Nemo and Porpoise swimmers (or team of 3,4 or 5 for 5000m team challenge)
We would recommend the 2500m individual distance for Dolphin and Deveoment swimmers. (or team of 2 for 5000m team)
We would recommend the 5000m individuals to only our Deveoment, Youth and Master swimmers.
There is currently 50% off the entry fee if you enter before the 24th November.
Please use the details below for registration:
Link: www.swimathon.org/participants/register/select_session/4765
Please check the swim session details before you pay – it needs to state Friday March 27th 7-10pm Fishguard Flyers.
Red hot swimming in the pool, an impromptu visit by the Fire Brigade and silver foil blankets/skirts. It was that kind of weekend at the Pembrokeshire County Swimming Champs.
A record number, 35 swimmers, were entered to fly the flag for the black and orange. Everyone who competed did themselves, and the club, proud.
Flyers reeled in a mega-haul of medals – 8 gold; 17 silver; and 12 bronze – plus so many more pbs, club records and Welsh National (Winters) qualifying times. This included 2 silvers for the 14 and under girls' relay teams, who ran a strong Haverfordwest team incredibly close in the freestyle relay. We also picked up a bronze in the 14 and under boys' medley relay.
We ended the weekend as 4th placed club on 395 points, with Tenby scoring 412 and just pipping us to 3rd spot. Milford Tigers ran us close, but scored 391 to finish 5th, with Preseli Panthers small group scoring 3 points to finish 6th. Congratulations to Haverfordwest Seals for coming 1st with a huge tally of 1,783, with Pembroke coming 2nd on 785. Well done to all clubs for making this a special event.
Our older, more established swimmers were dependably good and proved to be great role models for the growing numbers of younger Flyers taking their first steps into the arena of competitive swimming.
It was encouraging to see so many young ones stepping up to show the rest of the county what Fishguard is made of.
Thanks to everyone who volunteered to help on poolside, time keeping and marshalling. Thanks also to parents for your support and co-operation.
We move on to the Sub Regional Championships, then the Carmarthen Open ahead of the Christmas break.
Go Flyers!
Dear all swimmers and parents,
Just a gentle reminder that Flyers are starting back on Monday Sept 2nd at 5.45pm/6.45pm (despite the inset day). We are looking forward to seeing you all back in the water!
Also, please prepare your entries for the Pembrokeshire County Championships taking place on Oct 12/13th. Karl sent an email to all members on August 22nd with all details in it and more information and the meet pack you can find here.
We want all our members to take part, this is a fantastic local event run for the swimmers of Pembrokeshire.